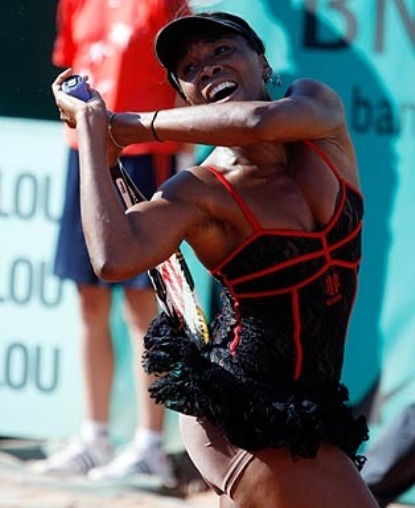 Venus Williams
wore nude color shorts under her outfit to the
in the

French Open over the weekend,
so that it appeared as though she wasn't wearing any underwear. According to CBS News, she told the press, it was all about the "illusion"
she had me fooled for a few seconds.This is a lingerie outfit! I'm suprised they let her out on the court like that. Do they not have any guidlines.? standrds? a dress code to prevent this?
I hope children who see this … well i hope they dont see this at all. it's a shame

Sorry Venus but that's nasty but clever (contradiction much lol),
It's time the women got back to wearing proper sports gear and stop trying to fashion icons on court....mostly they look silly....
bwahahahahahaha! can you imagine how many black men would start buying tickets if serena wore that??? OMG!!! and it just looks so wrong on so many levels!
Entirely Inappropriate,
She needs to put some damn clothes on. This is so inappropriate on so many levels.